10 Easy Minimalist home decor ideas
Are you trying to switch to a minimalist lifestyle and looking for minimalist home decor ideas? Well, it is easy to acquire; all you have to do is make your house clutter free and sprinkle some creativity. A moderate and clutter-free home is easy to manage and viable.
A clutter-free, simple and clean home feels very inviting and comfortable. A fuss-free home gives you a sense of satisfaction and has a calming effect.
How to turn your Home into a Minimalist Home
Declutter: Start by decluttering your house because a minimalist home symbolizes a clutter-free home. Whatever you feel is extra or is not useful anymore, donate, discard or keep it in a storage area.
One room at a time: Simplify one room at a time because it can be very hectic to simplify all the house in one go. It will make the execution of minimalist home decor ideas easy and manageable.
Stick to Essentials Only: Look around your home and ask yourself, is it essential? If not, remove it, be it furniture, paintings or other home accessories.
These are 10 easy and amazing ways you can decorate a minimalist house.
Light Tone Floors
Lighter tone floors give your house a roomy and brighten-up look. You can choose from options like white tiles, polished concrete or light hardwood flooring. You can get light-colored poly vinyl planks if you find the wood flooring option appealing but think it is expensive.
Calming Neutral Walls
Neutral colored walls are a significant ingredient of minimalist home decor ideas. They give your home a calming, cool, simple-looking, neater appearance. The color options you can choose from are:
White
Earth tones
Beige
Blush
Tan
If you crave a color splash, go for a monochromatic color scheme for one room of the house.
The flow of Natural Light
The flow of natural light will illuminate the rooms and make them look bigger and warmer. Large windows with thin, floor-length curtains will add life to the minimalist room, and if there is an amazing view, what more do you need?
Choose Furniture Wisely
The careful choice of furniture is vital to minimalist home decor ideas. Choose space-saving furniture which can also serve dual purposes. For instance, an old dresser may turn into a desk. Storage chests with funky colors and beautiful legs may serve storage and decor purposes.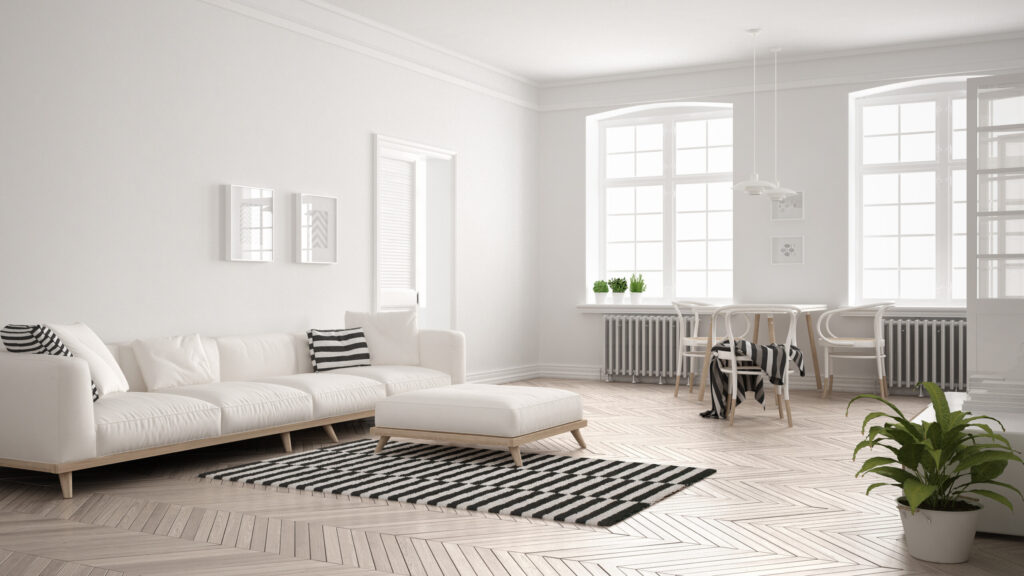 Invest in Simple Lights
The light in the minimalist home should be simple and in neutral colors that complement the walls and flooring. Also you can go for hanging or track lights; you also opt for lights with copper or gold finish to add style to the minimalist aesthetics.
Add Mirrors
If you don't want to spend on replacing your small windows with bigger ones, then investing in some pieces of a mirror is a great idea. Mirrors are fab for minimalist room decor and add style and elegance to the look.
Quality Wins
Minimalist home decor ideas greatly support the choice of fine quality pieces over quantity. Be it furniture or home accessories, always pick fine-quality articles. Instead of buying cheap and contemporary stuff, invest in good quality pieces which can last for years.
Install Vertical Shelves
Sensibly utilize your vertical wall space to make your home look organized and clutter-free. Keep your favorite books, and adorn the vertical shelves with small plants to lighten the mood.
Flaunt with Patterns and Textures
Moreover flaunt your minimalist aesthetics with a medley of different textured fabrics, matching the neutral color scheme. If you love fun patterns, add these to your minimalist home decor ideas list too. You can choose patterned rugs, wall art, and cushions having different fun patterns; be sure all are in harmony with the color scheme.
Green is Evergreen
Whether or not you are a minimalist, you can always add plants to your home decor list. Besides adding some plants to a minimalist home's clutter-free and clean aesthetic will add color and softness.
Benefits of a Minimalist Home
As one can jot down many benefits of a minimalist home, but some major benefits are:
· Minimalist home is quite easy to clean.
· Minimalist homes are usually clutter-free, which means fuss and stress-free.
· In addition minimalist home is also more soothing, comforting and appealing for everyone.
Conclusion
A minimalist lifestyle is undoubtedly easy to attain with fruitful minimalist home decor ideas.Just opt for a neutral color scheme and lighter tone flooring, which lightens up the house and makes it look spacious. Install larger windows, beautiful hanging light and elegant mirrors to add to the minimalist aesthetics. Play with textures and patterns, and adorn your minimalist Home with some pretty plants. Most importantly, choose fine quality pieces for decorating your cosy and simple minimalist Home.