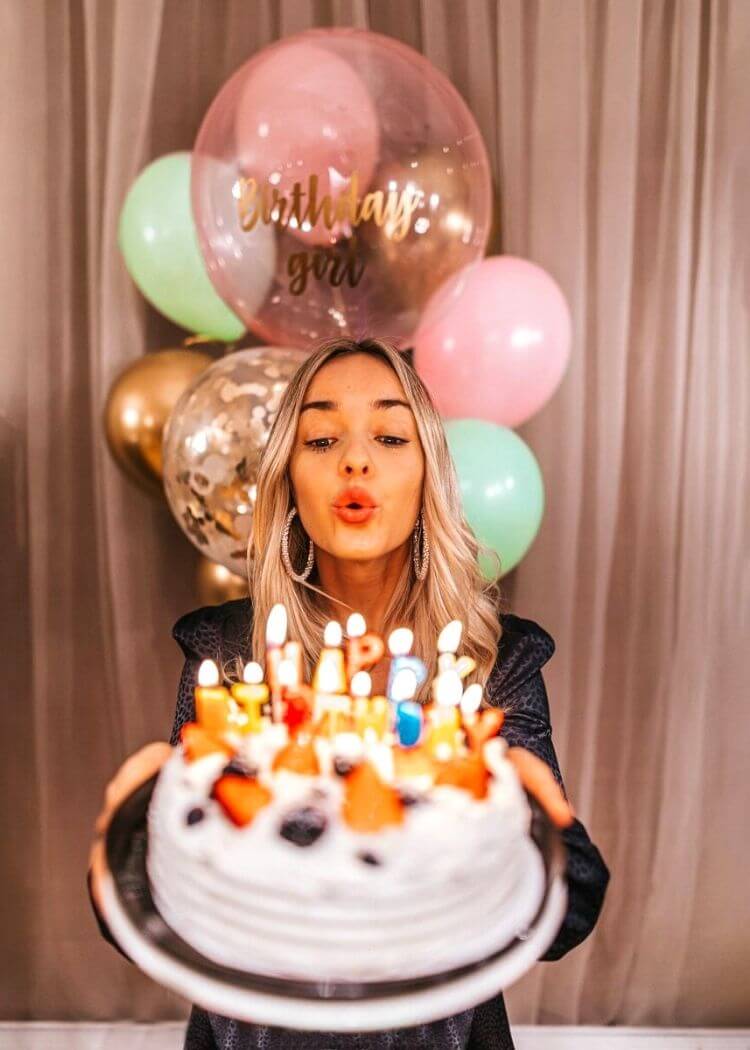 Unique Birthday Photoshoot Ideas To Try In 2023
YES!!!! It's probably your birthday soon or the birthday of someone you care about! For many people, their birthday is a very special day of the year, and it is a day that is only celebrated once a year. We've compiled a list of amazing birthday photoshoot ideas to make your birthday memorable.
Aside from the numerous options, we also provide this to ensure you have fun during your birthday photoshoot. Your birthday photoshoot may be creative, original, and utterly you, whether you're eighteen or eighty.
13 unique birthday photo shoot ideas
Here are 13 of our favorite settings for adult birthday picture shoots.
Go out to a bar
An excellent concept for an adult birthday photo shoot is provided below. Grab some birthday pictures of you having a good time in a pub. This would be fantastic for a 21st birthday or any other significant birthday.
To take pictures in complete secrecy, you can reserve a bar like this one in Charlotte, North Carolina, with a tropical theme. It's also possible that this is a fantastic place to throw a birthday celebration for yourself and all your friends and family.
tropical vibe
Whether you adore all things tropical or are a crazy plant person, this birthday picture idea is entertaining and easy to execute.
You can use the background if you already have a lot of plants in your home, or you can buy some tropical leaves to use with a plain background. Another suggestion is to shoot the photo in a greenhouse or conservatory with tropical plants and some white or green balloons.
Balloons decor
Make a statement with large, sparkly balloons with numbers that represent the year you were born or the age you are turning!
These balloons offer many photo opportunities, making them the ideal birthday photography subject for both children and adults.
Floral Birthday photoshoot decor
This charming and vibrant birthday photoshoot concept is ideal for the spring or summer. Find a flower field nearby, then have fun there!
If you'd like to intensify the birthday mood, you can bring a handful of balloons to hold for some of the shots while you're in the flower fields.
A garden party
What would be cuter for a birthday photoshoot than this? If you are already hosting a gathering with a garden party theme, all you need to do is hire a photographer, even if it requires extra work to set up.
Have the young ones seated at a tiny table in the backyard with flower crowns, floral decorations, and more to make it kid-friendly.
Recreate a birthday from childhood.
What was your favorite birthday celebration when you were a kid? Was it your My Little Pony party when you were seven or your trip to the aquarium when you were ten?
Make a grownup version of your favorite childhood birthday with your birthday photoshoot ideas for adults. If you have enamored Barbie, you could go to a charming pink fantasy house and dress up in adorable costumes. The house is a pink and gold kitschy fantasy that would make an excellent backdrop for a birthday photoshoot. It's a wonderful way to reconnect with your childhood while remaining intelligent and mature.
Include some water features.
There is no better way to inject some interest into a photograph than by including a water element. If your birthday falls in the spring or the summer, the pool is the best spot to celebrate because you can take advantage of the water there.
Gather your most beloved swimwear and a few fun inflatable accessories, and then make your way to a breathtaking pool, such as the one in this Los Angeles, California, backyard oasis.
You can unwind at the pool's side or plunge in to create some exciting action shots in the water. You can also ask the local host at the location you are visiting for assistance if you need the necessary underwater gear for your camera. They are happy to help in any way they can to make your birthday photoshoot with them the best it can be.
Find a stunning vista.
Stunning backgrounds for your birthday photos can help take them to the next level. Keep an eye out for places with a little "wow" element, such as this tiny house in Topanga, California. This rustic cottage in the mountains is perfect for an extra-special birthday photoshoot because of its expansive sky and picture-perfect views of the surrounding mountains.
Record yourself making your birthday cake and post it online.
Planning the perfect party is easy when you have ideas for adult birthday photoshoots like these to draw from. Wear your favorite apron as you select delicious treats to bake for yourself on your birthday, and capture the event with photographs. You won't just get the opportunity to take pictures with your birthday creation; you'll also be able to indulge in your delectable confections.
Keep an eye out for kitchens with an aesthetic edge, like this groovy pink Palm Springs-inspired kitchen in Los Angeles, so that you can make your photoshoot even cuter than it already is. It is a tropical venue that features neon signage, playful decorative elements, and even a boudoir set if you feel daring (more on that in a moment!).
Give your birthday selfies a little extra something special.
Do you consider yourself an expert in the fine art of taking selfies? Your birthday photoshoot ideas can be taken to the next level by visiting a selfie studio like this adorably quirky location in Scottsdale, Arizona.
There are different booths, each of which features a unique atmosphere and assortment of props, providing you with a wide variety of possibilities to select for your birthday pictures. You may function as your photographer, and no one will be any the wiser if you have ring lights and Bluetooth remotes added to your setup.
Organize a birthday boudoir photoshoot for you and your friends.
The following is a suggestion for a fun photograph to be held on a birthday by grownups with a playful side. Celebrate your birthday by documenting the occasion with some artistic photographs taken in a boudoir studio. This opulent space in Denver, Colorado, features all the tools necessary for artistic expression. You can be basking in the natural light or drawing the curtains to get a more provocative shot. A photographer described it as "special" and said it had an atmosphere he had never experienced anywhere else. I have nothing but praise for it when it comes to boudoir photography."
putting on matching separates
For amazing birthday photography that will allow you to feel all dolled up, go with matching chic and sophisticated costumes (like these slip dresses in pastel colors). For adults and wear them with your girlfriends.
When it comes to children, this concept is ideal for celebrating twin birthdays or having a birthday photoshoot with other siblings. So cute!
Candles and cupcakes.
This idea for a birthday photoshoot calls for the cupcakes to take center stage; for added visual appeal, you can use elements such as candles and sparklers. This is an activity that adults and children can do, and the resulting photographs can be fantastic and unforgettable. You could also do this as an alternative to the traditional "cake smash" for a baby, but instead of a cake, you could use a huge cupcake to keep the mess to a minimum (not to mention the sugar rush!).
Birthday Photoshoot Ideas and Tips
Now that you've gotten some ideas for your upcoming birthday photography, here are some more tips and tactics to get you started.
When in doubt, throw in some balloons.
If you're unsure if the photographic idea you like best is appropriate for a birthday, add balloons! For example, if you like the appearance of the flower fields photos but don't believe it says "birthday," bring a few balloons, and you'll easily tie in the birthday vibe.
Can I carry out these birthday photoshoot concepts at home?
You can surely do most of these! Aside from a handful, such as flower fields, beach day, and pool parties, which require a unique venue, the others can be completed in and around the home. Find a room in your house that can serve as a blank background for the confetti toss, balloon photos, or flower photos, and you're good to go.
When should you employ a photographer, and when should you do it yourself?
You might be able to perform the photo shoot on your own if you are comfortable around cameras and snapshots frequently, especially if you are not a birthday person.
If you are, you can always use a tripod and a shutter remote to capture concepts like the confetti toss, but you won't get a range of views. However, there is plenty to be said about the advantages of hiring a professional photographer, so you don't have to worry about the images not turning out the way you want them to. You'll also be able to relax instead of being the one behind the camera.
The bottom line
These popular birthday photoshoot ideas will be beneficial if you want to capture this important day creatively. You can do them or hire a professional to shoot your birthday party. After rigorous photographic preparation, you want the result to be flawless. Use these presets to make your photographs look like they're on the cover of a magazine. These preset will correct glare and overexposure in a single click. You can also use them for precise facial and skin retouching.
Frequently Asked Questions
What three factors contribute to a nice photograph?
The three most important variables in photography are straightforward: light, subject, and composition.
How can I look good on my birthday?
Wear a beautiful pair of slacks and a new top to stay comfy and stylish. If you like a casual look, pair skinny jeans with a lovely top. You may even combine a graphic tee with a jean jacket or another type of combination to appear hip while being casual.
In photography, what is the 3/4 rule?
Rule 3/4 is a guideline for how to put things in an image. Your subject should be in the left or right third, and the other two-thirds should be empty.
What characteristics give a photograph its impact?
An image that appears to be genuine carries more weight. Remember that your goal is to cause the spectator to experience some real feeling, preferably one that is real and helps them feel connected to the shot. You want the person looking at your snapshot to be able to mentally place themselves in the scene, or at the very least, to have the sensation that they are in the same room as you when they do so.
What is the most crucial component of a picture?
Light is essential to every photograph since it sheds light on the subject or scene being captured. It does not matter if the light is natural or artificial; what matters is the quality of the light and the direction from which it comes.
How do you smile for a camera?
It is a common belief that a grin in your mind will manifest itself physically on your face if you think happy thoughts. Therefore, when you take a picture, think about a recent event that brought you joy or made you laugh. This will help your smile come across more naturally on camera.
What characteristics of a face make it photogenic?
Regarding photography, angular facial features like sharp cheekbones, a square jaw, and other angular features make for interesting subjects because they capture the available light more effectively. On the other hand, the light that is reflected off rounder faces is scattered in all directions. A rounder face does not automatically make a person more attractive.