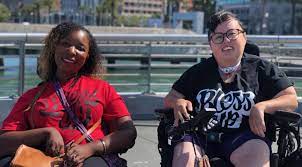 Crip Ancestorship and The 10 Principles of Disability Justice
Crip Ancestorship is a phrase that refers to how we see disability passed down from one generation to another. It also provides a new perspective on disability that can help dismantle the mentality and misconceptions about the stereotypes in our society. 
Crip ancestors often have a soulful experience in life. Their wisdom is valued by other disabled and non-disabled people who have experienced similar struggles in life. It's essential to understand all disabled people do not fit into this category; many experiences it differently than other people. 
What Is Crip Ancestorship?
Crip Ancestorship is a theoretical model that conceptualizes disability as a legacy of oppression and violence. It is a term used by disabled people and co-workers to create a space for us to feel pride in our disabilities and that it doesn't make us uncommon or inferior to any other human.
The word 'crip' comes from 'cripple', an ancient term that refers to someone with a physical disability. Crip acknowledges many Black Americans with disabilities. Also, navigating racial identity can be difficult because of their past experiences with ableism.
Crip Camp Summary:
Crip Camp is a documentary of three young people with cerebral palsy who attend a summer camp for disabled people. It has revealed the thoughts and feelings of disabled people within society. It also defines the community's mindset and how society limits opportunities for disabled people. 
Crip camp is about two things. Firstly, it's about the joy and hardships of growing up with any disability. Secondly, finding your place in this world where everything about you seems wrong. 
The report also reveals how lawmakers ignore disabled people's concerns and hear their demands. Jim Lebrecht and Nicole Newnham directed the Crip Camp. Moreover, it demonstrates how people can change their minds and help build goodwill.
Crip Camp Characters:
The documentary also recorded some interviews with non-disabled individuals. It shows how regular people aren't willing to listen and help these people. In addition, society restricts the possibilities for people with disabilities. So, a lot of people have expressed their opinions about this film. 
The list of participants includes:
Neil Jacobson
Bobby Muller
Al Levy
Nancy Rosenblum
Ed Roberts
Dennis Billups
Many other characters are also featured in this film. When you view the film, you can feel the sentiments, emotions, and feelings of the Crip Camp characters.
Stacey Park Milbern Quotes:
As the world remembers Stacey for everything she has done for humanity, we have collected some of her most inspiring quotes that will remain relevant forever.
" When we focus on a person's individual impairment or diagnosis… it kinda, like, lets society off the hook. It makes all the focus on that individual circumstance when really ableism, exclusion, and violence happen because of systems of oppression."
"There is no reason to feel shame for who we are. We were born into this world exactly as we are. We are who we were meant to be. That doesn't mean we can't grow and change and be better. Grow. Change. Be better." 
10 Principles Of Disability Justice:
These principles were developed by a disability justice-based performance project that incubates and celebrates artists with disabilities, centralizing artists of color and LGBTQ / gender-variant artists as communities who have been historically marginalized.
Intersectionality
The leadership of those most impacted
Anti-capitalist politic
Cross movement solidarity
Recognizing wholeness
Commitment to cross-disability solidarity
Sustainability
Collective access
Collective liberation
Interdependence
Conclusion:
Crip ancestorship focuses on the fact that the law alone isn't enough to fulfill the problems of disabled persons. Civil society must engage and be concerned regarding the rights of disabled persons. The movement for disability rights is increasing due to technology and the need for accessible places that provide equality to everyone regardless of ability or disability.