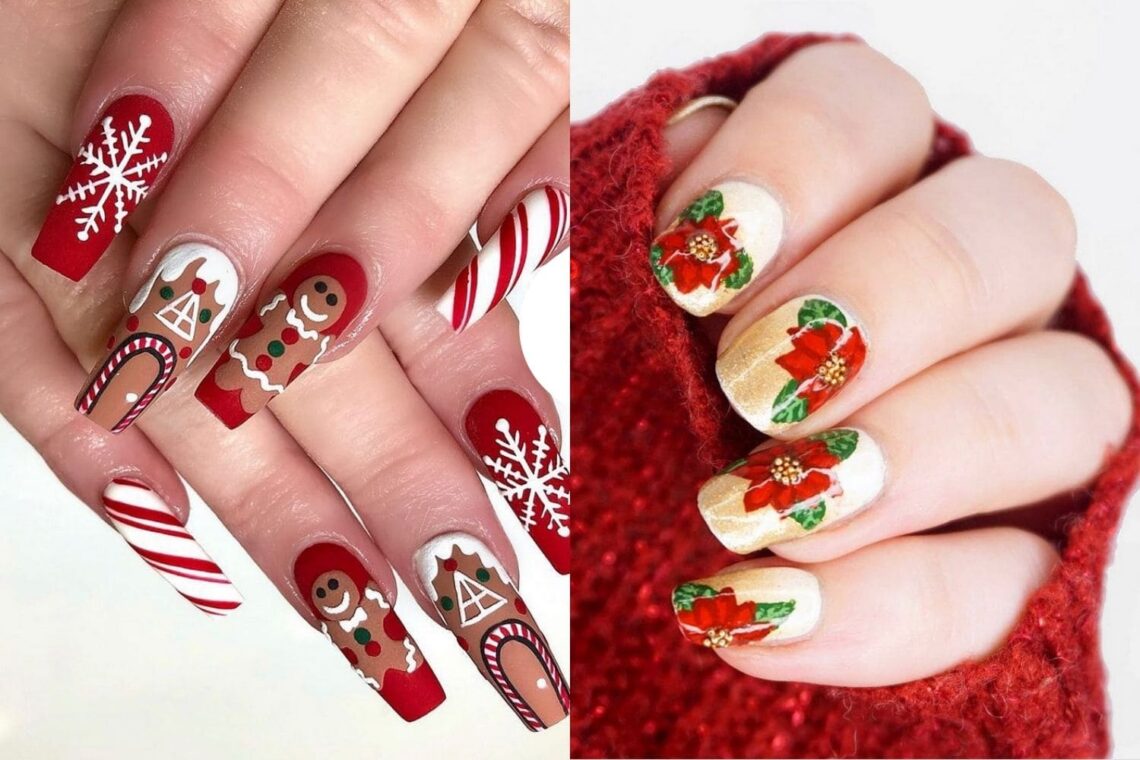 Enchanting Christmas Nails 2022 Trends
Christmas festivities call for fashion and Christmas nails 2022 trends to be explored. Who doesn't want to look good at the most awaited, most cherished, and celebrated festival of the year? Along with finding a dress suited for the Christmas celebration, you must be exploring Christmas fashion trends for 2022. A beautiful attire, along with a pair of complementing shoes. A few fine pieces of jewelry to adorn yourself. Not to forget Christmas nail art trends.
When it comes to a festival as cherished as Christmas, you certainly want to look your best. From outfits to makeup and shoes, jewelry to manicures, and dazzling Christmas nails 2022 ideas.
Nail Art Trends for Christmas 2022
This year's winter has showered endless options for Christmas nail décor. A wide variety of colors, techniques, glitters, nail shapes, and whatnot.
Nail Shapes, Trending on Top
This Christmas, make a wish to change your nail shape, and one of these options is a must try. The nail shapes trending this winter are:
Round
Oval
Square
Stiletto
Lipstick
Almond
Flare
Here you can also try other daring and popular nail shapes on the festive eve. Moreover, it is better to know how to prep your nails before nail art is also essential.
Nail Colours Galore
You might be taken up by the diversity of nail colors showing up on the trends for Christmas nails 2022. Let's look into some of the most captivating nail colors.
 Red is the classic Christmas choice.
  White
  Blue (different shades including light and dark both).
  Grey
  Pink, and
 Brown
Apply coats of nail colors to get your desired intensity and embellish with glitter, rhinestones, stickers, or you can create any designs on your own.
Also read Nails that go with black dress –How To Pick Your Color
Snowy White and Gold
A simple and elegant glow of nail paint as white as snow will add to your Christmas fashion taste. You should apply two or more quotes of Matt white or more till you get your desired intensity. Add a touch of gold glitter to the nails to give them a glittery look.
The Classic Red and White Combo
The combination of red and white can never go wrong, and is here to stay on Christmas nails 2022 trends. Red and white paint on alternate fingers with patterns or snowflakes drawn looks just fab.
Red Pop
When red is here, what else do you need? Apply red nail paint and top it with a coat of dazzling red glitter. Add some stickers or rhinestones to complete the red pop finish and you are all set for a perfect Christmas eve.
Beige and Gold Romance
You can coat your nails with beige nail color until you are happy with the shade. Add a coat of gold glitter on a finger or two on each hand. You would also like to add patterns and stars or add dots of gold glitter nail paint. Finish your Christmas nails 2022 look by adding some sequins or rhinestones on top of your nails.
Dreamy Icy Blue
Think of an icy cold Christmas evening; many shades of blue will emerge in your mind. Pick any one matt deep blue shade you love and coat up your nails. Embellish the nail paint with white, gold, and blue rhinestone on alternate fingers. Draw snowflake patterns with gold nail color, or even better, use gold or white stickers on the remaining alternate fingers. Wow!
Winter Shine Silver and White
White nail paint paired with silver is an elegantly mesmerizing combination. Spread a layer of porcelain white nail color and let your imagination shine with silver glitter nail color and add some sparkle to your nails. Draw different patterns like lines, snowflakes, and waves on alternate fingers. You might also like to add a patch of silver glitter on a finger or two of each hand. Let it sparkle on your Christmas Eve look.
Conclusion
This Christmas Eve, go utterly stylish with trending ideas of Christmas nails 2022 to complete your festive look. While shopping for Eve, don't forget to consider a manicure. when there are so many nail art trends, it seems a bit difficult to choose one. Be creative, choose various colors, and be playful with your nail art designs. To add festivity to your nail color, and you can add stickers of Santa, reindeer, bells, or snowflakes. Giving a glittery touch to your nails on Christmas Eve is a must. Adorn your nails with sequins and rhinestones to add sparkle to your nail paint.