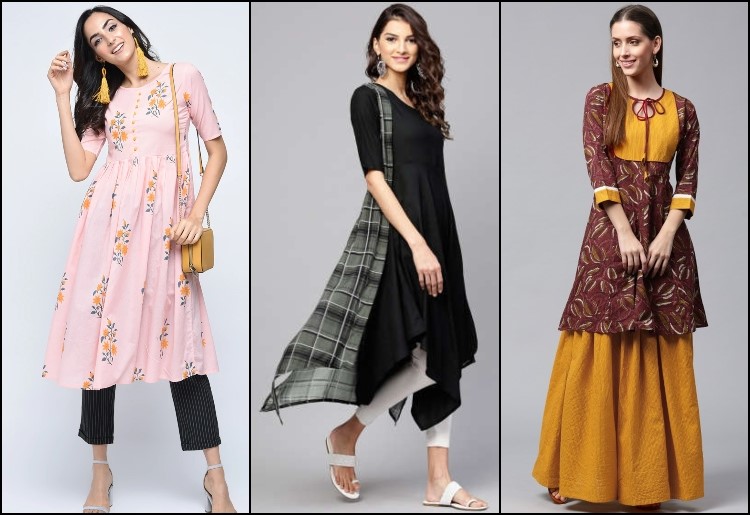 Kick off your ethnic wardrobe with these must-have kurtis
With fast-growing fashion and increasing social media influence, it's critical to stay current on various types of kurtis trends in ladies' ethnic wear. Do you want to look amazing in ethnic wear this season? Don't worry, most importantly, because we've got plenty of ideas for you to try. Pakistani ethnic clothing is best described as dramatic and elegant. It is timeless and provides numerous options for you to try.
Angrakha
Two different folds are laid on each other and tied with ties in Angrakha Kurtis. 
In today's fashion, Angrakha Kurti in Anarkali style is very popular. 
In short, Bollywood divas wear Angrakha Kurtis because they look ladylike and jazzy. 
Angrakha Kurtis looks excellent with straight jeans, wedges, and oxidized embellishments.
The flared look is flattering on all bodies.
Anarkali
The ideal blend of elegance, grace, and traditional quotient.
To sum it up, The best thing about an Anarkali kurti is that it looks great on any body type and is appropriate for any occasion: formal parties, office wear, casual, college, and so on. 
When it came back into the fashion industry, people paired it with churidar pyjamas, but later people began to wear it with palazzos, pants, skirts, and jeggings. 
It was the most popular look at weddings, festivals, and other special occasions.
To add some more elegance to Anarkali dresses, read this here to find relevant jewellery.
Long Kurti
The popularity for long Kurtis has skyrocketed in recent years. Long Kurtis look best with skinny jeans, straight pants, palazzo, tights, dhoti pants, and ethnic jackets. 
To sum up, they make a great outfit paired with skirts that you can wear to parties, day outings, and brunches. 
It's a great office outfit because it's both funky and classical. 
Accessorizing with appropriate jewels and bags completes the look.
Asymmetrical kurti
Asymmetrical kurtas have an irregular hemline, which means it is not symmetrical like straight, A-line, or kalidar kurtas.
Despite the numerous variations, the most common type of asymmetrical kurta has a front hemline above the knee and a back hemline that is calf-length.
They look great with ankle-length leggings or a narrow palazzo.
High-Low
As the name implies, the front hemline of this kurti is shorter than the back hemline. 
You can wear it for both casual and formal occasions. 
These look great with leggings, palazzos, skirts, and pants.
C-Cut Kurti
It is similar to a high-low kurti, but the front hemline has a 'C' shape that distinguishes it from a high-low kurtis.
These are appropriate for college, festivals, and parties. These look great with leggings, denim, or pants.
Floor Length Gown
These are gown-styled, floor-length kurtis in the style of western gowns. 
Floor-length kurtis in the Anarkali style are popular as floor-length gowns. 
Because they are usually embroidered or embellished, you can wear it for festivities.
Indo-Western kurtis
In this age of fusion, how can kurtis not incorporate elements of Western and Indian fashion? 
Traditional roots with a modern twist, Indo-western with different necklines and sleeves, making the Kurti edgier. 
Alternatively, to clarify, one can create asymmetrical cuts and slits to their liking. 
Furthermore, you can wear this contemporary kurtis with pants, jeans, leggings, stockings, and so on. 
To add to the fusion, you can wear a jacket with the outfit.
Tail cut kurtis
As the name suggests, this pattern has a tail-like effect, with the hemline short in the front and tail-like in the back. 
As a result, they look great with leggings, denim, or jeggings. You can wear these to parties, college, or just out and about.
Kurtis with layers
These double-layered looks are on trend.
Therefore, you can create it by adding a layer to a basic kurti to create different looks – front slit look, high low look, jacket style look, palazzo suit sets etc
These are appropriate for both casual college wear and festive and formal occasions. 
Conclusion
Kurtis is one of the most versatile garments women can wear for almost any occasion if properly accessorized. As you can see, this traditional or Indo-western look is not only versatile but also elegant, comfortable, and suitable for women of all ages. Moreover, if you still need convincing, here's another reason: you can pair kurtis can with various bottom-wear styles. in conclusion, a kurti is most likely the first choice of a college-going girl or a middle-aged woman going out to socialize.