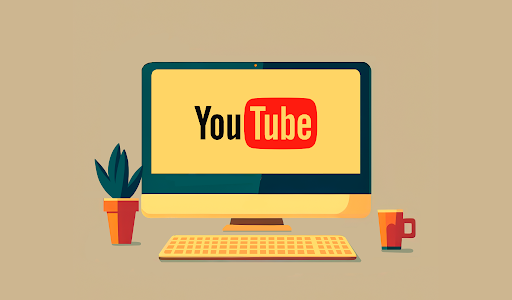 Make a logo for the YouTube channel
In today's reality each individual is surrounded by many promising ways to make money on the expanses of the global network. The active development of the IT-sphere allows you to open a business or to earn money without leaving home. Most people try to work not only for the sake of profit, but also for their own pleasure in order to avoid emotional and professional burnout. One such common occupation that contributes to income and entertainment is maintaining a channel or blog on various platforms. One of the most popular is YouTube.
For newcomers, it may seem easy to run a channel on youtube. To make money on this platform, you need to be a dedicated, creative and hardworking person. However, there are many subtleties and nuances that interfere with attracting an audience and increasing traffic.
Only channels that have been able to "propagate" themselves gain popularity on youtube. One step to popularity is the creation of a logo, attracting the first streams of audience for further promotion and leaving content to the masses.
How to create a logo for your YouTube channel?
The icon, which is the symbol of your channel, should convey the essence and specificity of the content. The image should demonstrate the theme of the channel.
It should create an image and set you apart from your competitors who are posting similar content. For example, if there are two kinds of blogs with identical names, the one with a better logo will win the most popularity. The channel icon creates a sense of unity in the concept of all the posted videos, creating an image and a sense of popularity and thoroughness of the content.
The choice of icon should be based on the following principles:
– Relevance;
– Simplicity;
– Easy to read;
– Logic;
– The presence of semantic load.
The choice of color palette used to create the emblem should be based on the psychological and associative range of the audience. For example, if your channel is about mysticism, you should use colors such as black, purple, malachite, or dark blue. If you are talking about nature travel, it is better to choose a green landscape.
The font should fit into the structure of the logo and combine with all the selected elements. It is undesirable to use more than two types of fonts on the same icon.
Conclusion
The channel sign demonstrates the unity of the author's idea, and is also a protection from Internet piracy of your videos by other users.
Selecting a logo for yourtube channel is a time-consuming and complicated task that requires careful analysis and creative thinking. If you do not own a program for Photoshop, then the best option would be to use online – designer "Turbologo". The constructor will generate a logo according to the entered parameters, keywords and color preferences.
Also Read Interesting Articles At: Blog 2 Day.