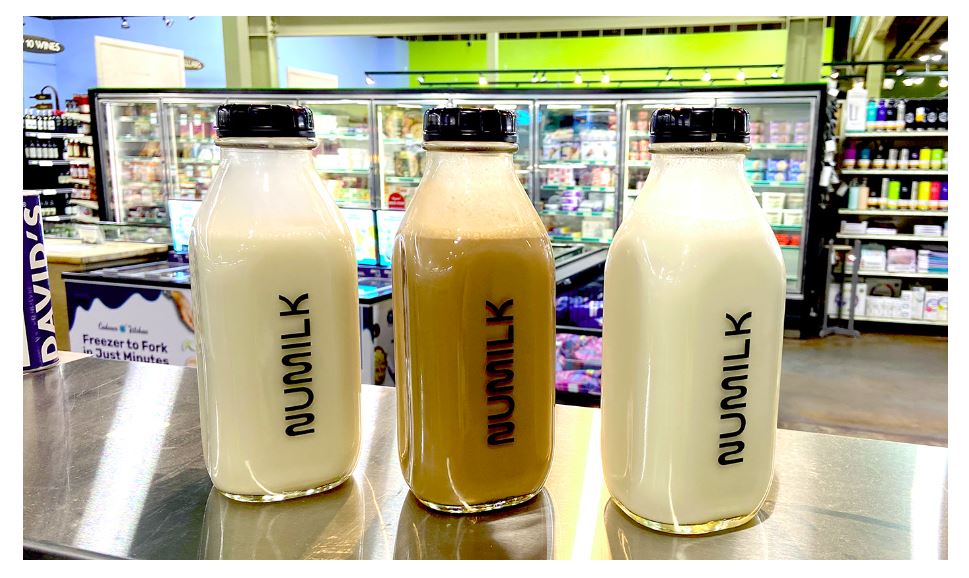 Numilk is the new trendy milk replacement.
Almond is one of the most widely used sources of plant-based milk, which has become popular in recent years. You can make fresh almond milk with a device called Numilk and inexpensive ingredients. Its creators are Ari Tolwin and Joe Savino, who successfully pitched their company on Shark Tank. Numilk is expected to be worth $55 million in 2022. Almond is one of the most widely used sources of plant-based milk, which has become popular in recent years.
What is Numilk?
A company called Numilk creates a distinctive milk packaging design.
Each step is carried out without bacteria and is environmentally friendly.
The Numilk machine can work to produce prepared and fresh milk right before your eyes.
After using a bottle, consumers can fill it on their own and either recycle or throw it away.
The business aims to produce pre-packaged plant-based milk for the consumer.
Background on Numilk
The food-tech business Numilk started out as a maker of plant-based milk vending machines.
The creators of Numilk were confident they could offer consumers a superior dairy substitute, and they succeeded.
Today, Numilk is the top American producer of plant-based milk vending machines.
The way consumers eat and drink is changing thanks to Numilk's cutting-edge products and dedicated staff.
Setting Up the Company
The idea for the machine was Joe's.
The device could produce fresh almond milk whenever needed.
The only ingredients required are almonds and distilled water.
Maple syrup makes the cup sweeter.
Grab a bottle, put it under the faucet, and let customers decide between sweetened and unsweetened options.
They can expect their drink in less than a minute.
The retail cost of the machine is $299.
Financing the Numilk concept
To develop the idea, the startup raised $12 million from investors before launching in 2018.
The developers spent $2 million but only had an earning of $40,000.
They made $320,000 the following year but lost $3 million.
The company made $400,000 in profit but lost $2 million in 2020.
Appearance on Shark Tank
Tolwin and Savino were having trouble getting their company off the ground.
Therefore, they intended to enlist wealthy investors' aid on Shark Tank.
They presented their proposal in 2021, offering $1 million for 5% equity.
Some Sharks thought valuing their company at $20 million was excessive.
Aside from their initial form, which was about the size of two refrigerators. Additionally, they unveiled Numilk Home, a new, portable version with a $199 price tag.
According to the wealthiest Shark, Mark Cuban, a vegetarian, it has a lot of potentials.
Cuban offered $2 million and suggested that $1 million be in the form of cash in exchange for 7% equity.
Joe and Ari happily agreed that the other half of the deal was a loan with 3% interest.
Following the Shark Tank appearance
Following their appearance on Shark Tank, Whole Foods and Numilk began discussions.
They also started a Kickstarter campaign at this time, which attracted 888 backers and raised over $222,000 for them.
Their products are currently available in 65 shops across the US.
The home version of their product is also up for pre-order on their website.
Additionally, they want to expand their collaborations with supermarkets and coffee shops.
What was Mark Cuban's revenue from Numilk?
Numilk is producing a plant-based milk Keurig-style device.
Numilk recently signed a $2 million deal with Mark Cuban to make plant-based milk accessible to all.
According to estimates, Mark Cuban earned $1.9 billion in 2018 from his investments in the tech firm Numilk.
It is unclear how much money he made from Numilk because the business is not publicly traded, and its financial details are not accessible to the general public.
Conclusion
Numilk isn't developing as quickly as anticipated and has encountered supply chain problems. Customers on Kickstarter are growing impatient as many people are asking for refunds. Hamilton Beach will produce the Home and Pro machines, Numilk announced in September 2022 after reaching an agreement.