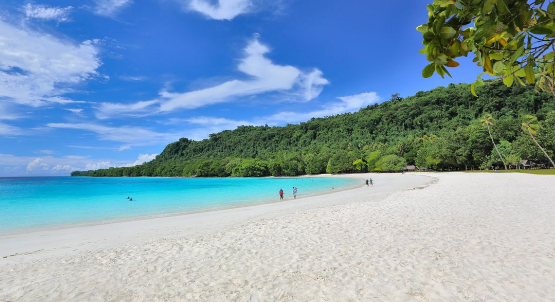 The Ultimate 2023 Beach Holiday Bucket List: Discover the World's Best Coastlines
The start of a brand-new year is finally here, and there's nothing better than anticipating it with a line-up of amazing travel plans already made.
In light of this, we've compiled a list of some of our favourite places you should visit in 2023, better yet, enjoy these trips via holiday competitions. Make the coming year utterly incredible by taking one of these extraordinary vacations!
Santorini – Greece
This year, say welcome to stunning Santorini if you're looking for a vacation to check off your bucket list and make an impression on Instagram.
You've probably seen its beautiful scenery on postcards, catalogues, and advertisements. This island will make you feel special from the minute you land. Santorini is the place to go if you want to experience Greece at its best.
This island is without a question a must-visit for any travel enthusiasts. It is renowned for its bright blue backdrop scattered with whitewashed cliffside houses and for having one of the most beautiful sunsets across the entire Mediterranean.
You'll be hard pressed to find a more romantic location than Santorini if your aim for this year is to go on a romantic getaway together, just the two of you. Elegant wine bars with Aegean Sea vistas, mouth-watering Greek meze, and breath-taking scenery everywhere you look? This picture-perfect island meets all expectations.
Reykjavik- Iceland
Although Iceland may surprise you as a bucket list location and is undoubtedly not your typical beach vacation, we believe you'll be eager to board the aircraft as soon as you learn about the once-in-a-lifetime experiences on offer.
Iceland tops most other places on the globe when it comes to must-see attractions; just to name a few, there are gleaming glaciers, frozen waterfalls, and snow-capped mountain tops. The beauty you'll experience when you first see these breathtaking sights cannot be adequately captured by a camera.
With only a short flight from the UK, a city break to Reykjavik will reward you with all these sites and more. You'll be astounded by everything this modern city has to offer, from stunning architecture to sleek art displays. It's a bustling, contemporary center of activity and the ideal starting point from which to explore Iceland.
Join a journey on a quad bike—wrapped up, of course! and fly across snow-covered mountain tops, or visit trickling, icy waterfalls where, if you're fortunate, you'll see enormous geysers shooting Icelandic water skyward!
You must swim in the Blue Lagoon if you visit Iceland, as if all the other things on your wish list aren't mandatory. You'll have the greatest spa day ever thanks to these natural thermal waters, and you'll feel more renewed and refreshed than ever when you leave.
Mauritius
There are 330 kilometers of untouched coastline on Mauritius, so you're almost certain to locate a quiet area to yourself. The best part about this beach is its silvery white, flour-soft sand, which is lapped by turquoise seas teeming with colorful fish. The finest beach on the island might well be Belle Mare on the east coast. It has miles of white beaches, bathwater-warm waters, and some breathtaking sunrises. If you're looking for a peaceful place to sunbathe during the week, this place is calm. On the weekends, it's much livelier. Flic en Flac is another charming location with trees and mountains in the background on the west shore.
Thailand
Thailand is home to many pristine beaches, but if you travel to Krabi, you'll find a 150-kilometer length of coastline that is bordered by towering limestone cliffs. The only places to find peace in this area are Railay Beach, which can only be reached by boat, and Phra Nang Krabi, which can be reached by kayak from Railay Beach after pausing at a cave shrine en route.
On Khao Lak, the hotels are built to blend into the surroundings, so you can anticipate hiding places encircled by lush tropical vegetation. You can choose from locations with beachfront views, backdrops of the jungle, or even a hotel with the longest pool in South East Asia.