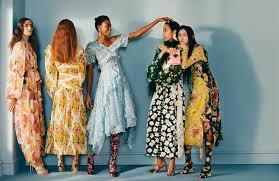 TOP 10 Fashion Designers in the World
According to Forbes, the Top 10 Fashion Designer Inthe World.
Coco Chanel – Known for her timeless designs, Chanel revolutionized women's fashion in the early 20th century with her elegant and sophisticated clothing  .
Giorgio Armani – Armani is one of the world's most iconic and influential fashion designers, renowned for his sleek, minimalist designs and attention to detail.                  
Christian Dior – Dior is famous for creating the "New Look" in fashion, which emphasized feminine curves and luxurious fabrics. His legacy lives on through the Dior fashion house.
Yves Saint Laurent – Saint Laurent was a pioneer of the women's pantsuit, and his designs were known for their androgynous and edgy style.
Ralph Lauren – Lauren is an American fashion designer who is famous for his preppy and classic designs, which often feature the iconic Polo logo.
Alexander McQueen – McQueen was a British fashion designer who created daring and provocative designs that often pushed the boundaries of what was considered acceptable in fashion.
Tom Ford – Ford is an American fashion designer who is known for his sleek and sophisticated designs, which often feature bold colors and sexy silhouettes.
Marc Jacobs – Jacobs is American fashion designer who is famous for his playful and whimsical designs, which often feature bright colors and bold patterns. 
Donatella Versace – Versace is an Italian Fashion Designers who is known for her bold and colorful designs that often feature ornate prints and intricate details.
Karl Lagerfeld – Lagerfeld was a German fashion designer who was known for his work with Chanel and Fendi, and his signature style was characterized by his love of black and white, and his attention to detail.