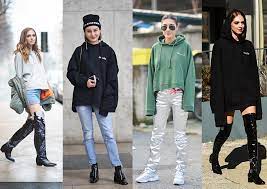 Some Cool Ideas To Style Vintage College Sweatshirts
When in doubt, wear vintage college sweatshirts. It is an outfit that can serve as your best ensemble during winter and even summer. They are fashion's biggest blessing for everyone who picks comfort over trends or is into any fitness routine. Let's talk about how this simple piece of clothing makes our life so much easier.
What Is A Sweatshirt?
A sweatshirt is a long-sleeved pullover shirt made from thick cotton material with a fleece lining. They are loose or oversized, not fit even though they come under types of sweaters, but they are not.
Different Ways To Wear A Sweatshirt: 
Putting together an exciting wardrobe doesn't mean you need to have a lot of clothes. With a bit of imagination and a few choice items, you can create stunning outfits to look trendy. These vintage college sweatshirts can be associated with loungewear or gym wear. You can style these into fashionable ensembles, even suitable for work. These tips and tricks to look highly fashionable by styling these vintage college apparel help you make the correct statement as the occasion demands.
1. Winter Look:
One of the best times to cozy up in sweatshirts is as soon as winter arrives. Warm pullover winter wear sweatshirts with or without hoodies are a great option. Bright, vibrant colours like pink, orange, yellow and red can elevate your look and mood. Winter-wear vintage college sweatshirts define the look with accessories and the proper layers. Winter hats, patterned mufflers, coats with synthetic fur trim, winter boots, and gloves will enhance your look.
2. Casual Office Look:
The casual sweatshirt can transform into a bright casual office look unless the dress code at your workplace is strictly mentioned. You can easily pair trousers with slim-fit sweatshirts and jackets. You can also style them with chinos, khakis, or jeans and finish the look with shoes or loafers. Women can opt for pretty floral numbers trending today, pairing them with wide-leg trousers and pointed-toe stilettos for a thoughtful touch. You can complete the look with silver accessories, studded earrings, and oversized totes or handbags in complementing hues. Alternatively, you can switch the trousers out for knee-length pencil skirts and add a scarf to accessorize it even more.
3. Party Look:
A celebration doesn't always need maxi dresses, gowns, and jumpsuits. You can quickly wear vintage college sweatshirts with a fancy skirt and surprise your friends with an excellent style. A chic boho look can be achieved by choosing a light colour and pairing it with a flowing maxi dress. A top knot with a statement necklace and dangling earrings will give the outfit just the right touch of flair. Men, don't hold back with accessories; get your statement watch, slip on cool aviators, and throw on a chic jacket.
4. Casual Look:
Wearing jeans and a T-shirt may be the norm for everyday casual wear, but why not mix it up with a cute sweatshirt? A great weekend with friends can get exciting with a pair of jeans, casual lace-up shoes, and a sweatshirt featuring your favourite video game. It is a great way to make a statement and stand out. Slogan sweatshirts are another top choice, especially for young men and women. Oversized sunglasses and aviators with more accessories will complement the look. Opting for solid colours with floral, abstract, or animal prints can further enhance your look. 
5. Loungewear Look:
Sweatshirts can be a comfortable garments to lounge in. Style them with loose-fitting pajamas and soft slippers for utter comfort. Cropped sweatshirts are a hot trend today and make you look stylish with high-waisted jeans or skirts
Conclusion:
Vintage college sweatshirts are classic pieces of clothing, when appropriately accessorized, can make you look trendy and chic. You can use it for outings, dinner dates, and even birthday parties. Depending on the cut, fit, and print, they can be jazzed up to wear on smart casual occasions. Fashion is all about experimentation, so don't be afraid to try new things