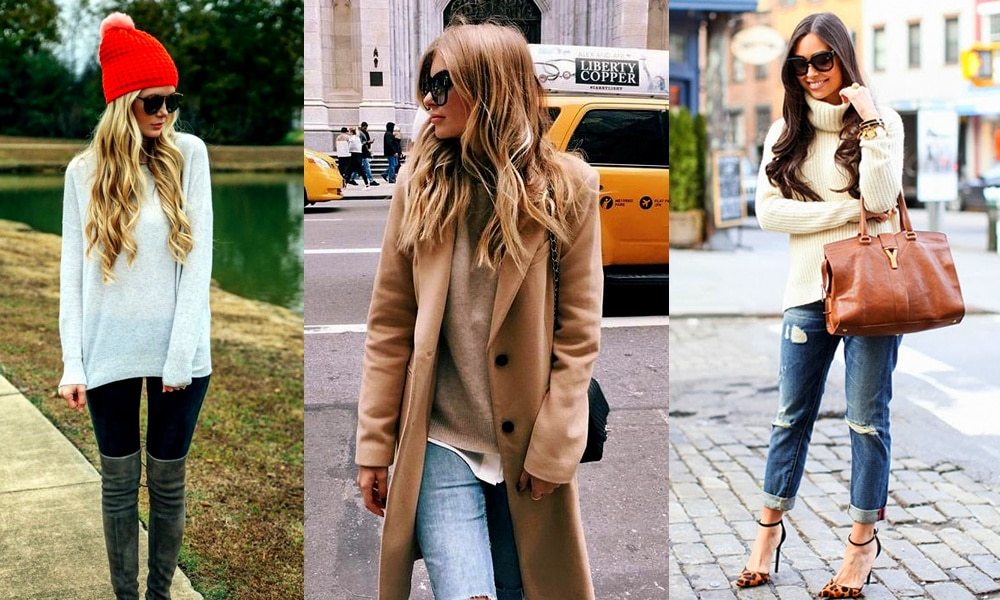 Top 9 Cute Winter Clothing Ideas To Look Trendy
Every girl needs inspiration for winter clothing ideas to dress up. How do you look stylish when you are layered up and completely covered? Dressing up in winter can be pretty frustrating, especially if you live somewhere with freezing winters. In this case, you mostly choose comfort over trends. But while some thrive in the cold, others can't help but wonder, 'How could one possibly look so cute when it's below freezing?' There are many tips and tricks to inspire your dressing this season. With puffer coats, snow boots, holiday looks, and fuzzy foot warmers, the winter wardrobe is genuinely a peak fashion moment.
Comfy Winter Outfit Ideas:
From scarves and coats to winter-friendly dresses, our favorite cozy looks for the season are below.
1. Long Coats
Long coats are the key to looking stylish all winter, especially if you have one in a neutral colour, like beige. Though these types of coats look stylish with any outfit, they elevate more with some trendy faux leather pants and a knit top. There are a lot of trending coats this season.
Capes
Leather coats
Shearling coats
Herringbone coats
2. Puffer Coats
Compared to wool and leather, puffer coats provide a unique combination of warmth and lightness. They are surprisingly versatile, but one of the best ways to wear them this winter is with a sweater, straight-leg jeans, and chunky boots. This outfit is a perfect everyday winter look that is casual and functional.
3. Beanie Hats
A cute beanie hat can make a stylish winter outfit, especially a colorful one with pompom details. They look good with a sherpa jacket, your favourite denim, and some lace-up boots for a go-to winter look.
4. Winter Dresses
For winter clothing ideas, maxi dresses are the perfect ones. A sweater dress is an ultimate option for keeping cozy and warm while looking cute. Style your dress with some knee-high boots or ankle booties, long coats, or tights.
5. Oversized Sweaters
Typically loose sweaters are often called oversized sweaters. It can be cute winter outfits for going out. Dress slacks, tuxedo pants, and tailored wide-leg pants add structure to a large sweater outfit. It can also look perfect with skinny jeans and faux leather leggings.
6. Classy Winter Outfit
A classical plaid skirt with a cable knit sweater is a chic, classy look for wintertime, mainly carried with a beige overcoat. Adding some heeled ankle booties makes this outfit ideal for a dressier occasion.
7. Cardigans
Who doesn't love a baggy cardigan on a chilly day? If you want to step up your style, swap out your jeans for some faux leather pants and add a pair of chunky lug-sole loafers, which are a big trend this season; you can also add socks for a warmer yet still cool look!
8. A Blanket Scarf
For a super easy winter outfit idea, try a blanket scarf! This must-have winter accessory can be styled in many ways and topped over just about any outfit. It's a great way to add a pop of print to a solid-colored outfit.
9. Bodysuits
The purpose of a bodysuit is to provide support and a seamless tucked-in so that you can style with comfort and ease. Different winter clothing ideas Pinterest also provides on styling. Add a black belt with a silver buckle and some chunky black ankle boots to complete the look.
Winter Clothing Storage Ideas:
As the weather warms up, more of us will switch our winter clothes for our lighter spring and summer wardrobes. Here are some winter clothes storage tips that increase the lifespan of your cold-weather clothing.
Wash and dry clean your winter apparel before keeping them back
Repair and mend damaged clothing
Use plastic storage bags
Fold them instead of hanging them in the closet
Pick the suitable storage space
Pest control the storage place
Conclusion:
Winter clothing ideas above define different styles used to dress up elegantly and look fabulous in simple garments. A great way to keep warm and cozy and also look like a fashionista at the same time.